About Us
Protecting workplaces and communities one background check at a time.
When BIB was formed in 1995, our founding members followed their dream to build safer communities through innovative background screening products. Sometimes that meant delivering pizza during evenings and on weekends to make ends meet. Today, BIB has built a business that delivers truth. Over the years, we've expanded our screening services and technology to make it easier and more affordable to hire employees and volunteers with confidence.
As a leading background check company, BIB helps businesses, schools, and nonprofits create a safer environment with high-quality background investigations, drug screenings, and occupational health services. We deliver ongoing value with flexible technology, a hands-on leadership team, and an uncompromising dedication to helping our customers overcome even the most complex background screening challenges.
Although we no longer deliver pizza, each member of our team is committed to delivering the same level of passion and dedication supported by our foundational values. Working as partners with our customers, we aim to create safer environments through quality background screening services.
— Ken Monroe, CEO
What Makes BIB Different?
Every background screening provider must supply accurate background checks with efficient turnaround times. Here's how we deliver on that promise and so much more: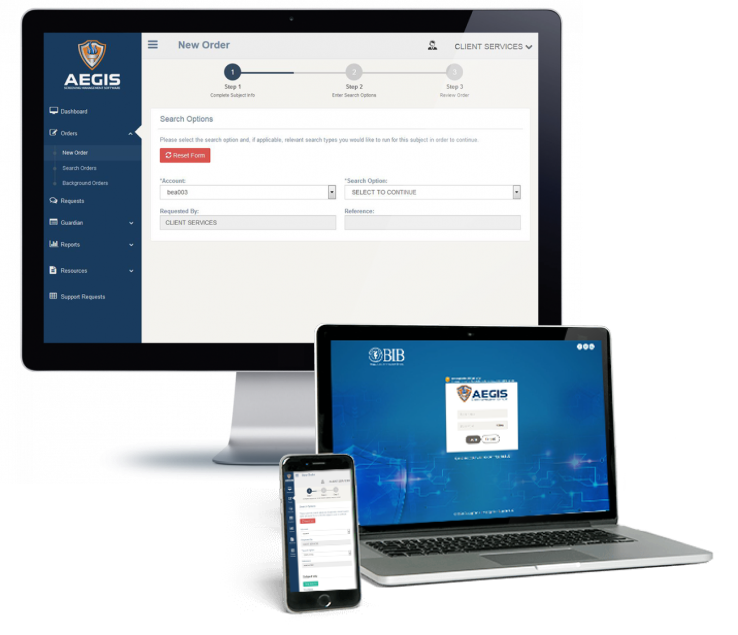 Personalized Technology One size doesn't have to fit all. We are committed to delivering customized solutions so your background screening program evolves alongside your processes.
Fair and Equitable Screening Solutions We help you balance workplace safety and fair access to job opportunities.
White-Glove Customer Support No customer request is "too small" for our best effort.
LEARN MORE
Meet Our Team
Ken Monroe
Chief Executive Officer
Randall Wilson
Chief Operating Officer
Callan Bryan
Chief Legal Officer
Nick White
Chief Technology Officer
Ingrid House
Director of Operations
Chuck Rigney
Information Systems Manager
Jennifer Martyn
Director of Finance
Rosa Mateo
Director of HR
Employee Testimonials
Why our employees love what they do
"I am incredibly grateful to have found a purpose-driven career at BIB. Every single day, I feel blessed to contribute to our mission of Protecting What Matters by promoting better screening processes and preventing the entry of undesirable individuals into organizations…A decade later, I'm still here because of the remarkable people and the meaningful mission we share."
Jennifer Drake
Senior Account Executive
"I am grateful for the opportunities BIB gives their employees and the room for professional advancement. BIB tremendously values and appreciates their hard-working employees.Personally, I love knowing that what I do in the research department helps prevent people with dangerous criminal backgrounds from obtaining jobs, such as working in school systems and with our children. "
Courtney Abballe
Research Specialist
"I'm extremely happy with the culture, flexibility, people, and leadership here. The collaborative culture encourages innovation and respect. The flexibility offered is remarkable, allowing for work-life balance. The colleagues are supportive and inspiring, and the leadership empowers us to reach our full potential. It's a truly wonderful environment."
Michael Kinard
Account Executive
"The genuine care and respect that permeates our workplace has made every day at BIB truly a pleasure. I am immensely grateful for the opportunities for growth, the incredible work culture, and the exceptional colleagues I have had the privilege to work alongside. My five years at BIB have been nothing short of extraordinary!"
Briann Messick
Executive Administrator
"Being part of the BIB family has not only propelled my professional growth but has also nurtured my personal development. It is an honor to belong to a company that genuinely cares about its employees, prioritizing their success and well-being. BIB has created an environment where these two elements go hand in hand, and I couldn't be more grateful to be a part of the team."
Rose Thornton
Account Executive
"I absolutely love working at BIB because the company culture is simply incredible. It's a place where collaboration and support thrive, making every day a joy to be part of. The shared commitment to protect and uplift others through our diligent work gives me a profound sense of purpose and fulfillment that is truly unmatched."
Corrina Bryant
QA Manager
"Having been part of the BIB team for an incredible decade, I've personally witnessed our unwavering commitment to the well-being of our employees. The genuine care and remarkable support provided by BIB are truly inspiring. We are not simply regarded as employees; we are recognized as the company's most valuable asset."
Rosa Mateo
Director of Human Resources
"I've worked for a few companies so far in my career and not a one has inspired me the way that BIB does. The management team has full faith and confidence in its employees. It's a forward-thinking company that strives to provide the best work environment and company culture so that each individual here can be the best possible version of themselves period!It's a company that I'm proud to be a part of!"
Jennifer Martyn
Director of Finance
"With BIB, there is room to grow and incredibly knowledgeable people who take every opportunity to teach you. Because we work in such a fast-paced environment, I learn something new every day here. I am thankful to BIB for the opportunities I have been given and the people who continue to make this a great place to work."
Annalisa Swanston
Accounts Receivable Analyst
Working at BIB
At BIB, you'll have more than just a job. You will be a part of a culture and team built on these values:
Be a Hero
We never forget that people count on us to deliver the truth. We must be humble and make a difference at BIB and in the community!
Be Trustworthy
We work in a people-focused, high-trust culture, so we count on our team members to be reliable and do the right thing.
Communicate Fearlessly
We believe in asking questions and challenging assumptions, all without consideration of ego and status.
Protect What Matters
For us, it's not just about background screening. It's about being thorough and getting it right. We pursue quality relentlessly, and we take it personally.
Be a CEO
All employees are empowered to think like CEOs, become the owners of their work, and stay accountable to customers.
Be Better Together
We treat each other respectfully and lead with empathy and compassion. We commit to making each other better.
BIB Job Opportunities
Building a career at BIB means that you can:
Make a difference and know your work protects lives and communities.
Join a fun, team-oriented culture.
Have a manager who mentors you and helps you reach your full potential.