Applicant Express
Faster Background Checks Initiated from Any Device
When you want to get new hires and volunteers up and running in a new role, it's critical to have an efficient background check process.
With Applicant Express by BIB, you can get the process rolling quicker using our mobile-friendly applicant portal.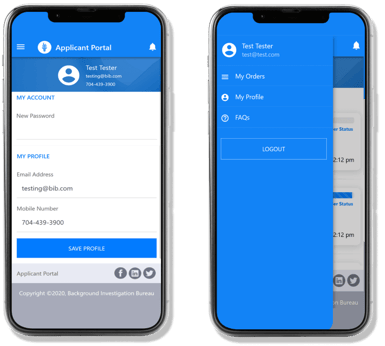 A Modern, Paperless Background Check
An old-fashioned background check requires emailing paper forms back and forth to applicants. Not only is this time-consuming and costly, but it can also be inconvenient for applicants who don't have access to a scanner or printer.
Applicant Express automates these steps so you can run paperless background screenings and get new hires on board quicker. Prospective hires simply access the applicant portal from any computer or smartphone, submit the required information, and we do the rest!
How Applicant Express Works
The Applicant Express portal is easy to navigate! Straightforward language and intuitive screen prompts guide applicants through every step of the process.
See how easy it is for your applicants:
Step 2:
They enter the login credentials you provided.
Step 3:
They follow the prompts to review legal disclosures and authorize their background check.
Step 4:
They enter their contact information and any details you request, such as:
Address history
Former legal names
Driver and professional license information
Employment history, including dates and job titles
Educational history, including dates and degrees earned
Personal and professional references
How Applicant Express Improves the Candidate Experience
In a competitive job market, you want to do everything possible to run an efficient hiring process and reduce your time to hire. But an overly long background check process can get in the way of those goals.
Applicant Express streamlines the process by letting applicants initiate their background checks. They enter everything needed to start the process and stay informed along the way.
The online applicant portal is great for applicants because it is:
User Friendly

Accessible from desktop and mobile devices

Compliant with applicable federal and local laws

Able to scan ID documents so applicants don't have to type in the details (mobile devices only)