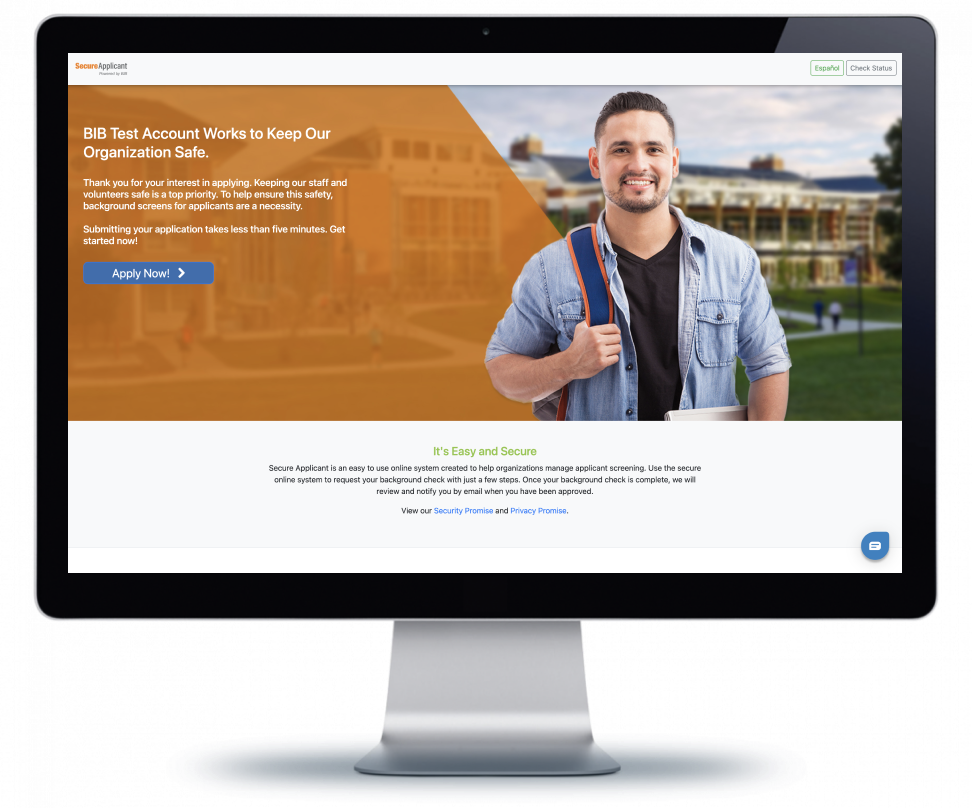 Secure Applicant
Revolutionize Your Applicant Screening Process
Applicant background screening doesn't have to be a lengthy, paper-intensive process. It should be easy for you and for applicants.
Secure Applicant streamlines the background screening process so you can deliver a great candidate experience and get quality, secure background check results.
A More Secure Background Check
Secure Applicant screening technology empowers applicants and makes it easier to submit personal information. Applicants access the user-friendly applicant portal and get the process started.
No more paper forms and administrative headaches! The process is as easy as one, two, three:
What's Included in a Secure Applicant Background Check?
Secure Applicant is flexible enough to meet your unique needs, whether you screen employees or volunteers in the dozens, hundreds, or more. It's also perfect for all organization types, from businesses and schools to sports leagues and nonprofits.
BIB offers the following services:
Address History Trace
Identify all known addresses, names (including aliases), and dates of birth associated with the applicant's social security number in the last seven years.
National Sex Offender Search
Conduct a comprehensive, real-time search of sex offender registries in all US states and territories.
Nationwide Criminal Record Locator Search
Conduct a database search of more than 400 million criminal records regularly collected from over 2,500 public and proprietary sources. All hits are verified at the court of record.
County Searches
Search the applicant's criminal history in county courts for all counties found in the address history trace.
Motor Vehicle Record Search
Conduct a comprehensive, real-time search of sex offender registries in all US states and territories.
Employment and Education Verifications
Confirm the accuracy of an applicant's prior employment and education.
Occupational Health and Drug Screening
Conduct applicant drug testing and other health screening services, including physical exams, Department of Transportation tracking, and medical needs assessments.
Government Sanction and Watch List Searches
Determine whether an applicant is prohibited from certain activities or barred from employment as required in some regulated industries, such as healthcare and financial services.
Volunteer Background Screening
Conduct a volunteer background check with any combination of background check services, and include the optional volunteer self-pay functionality.
Key Benefits
Conduct a secure background check without manual effort. Our innovative technology simplifies background screening and allows you to make the most of your background screening investment.
With Secure Applicant, you can expect the following benefits: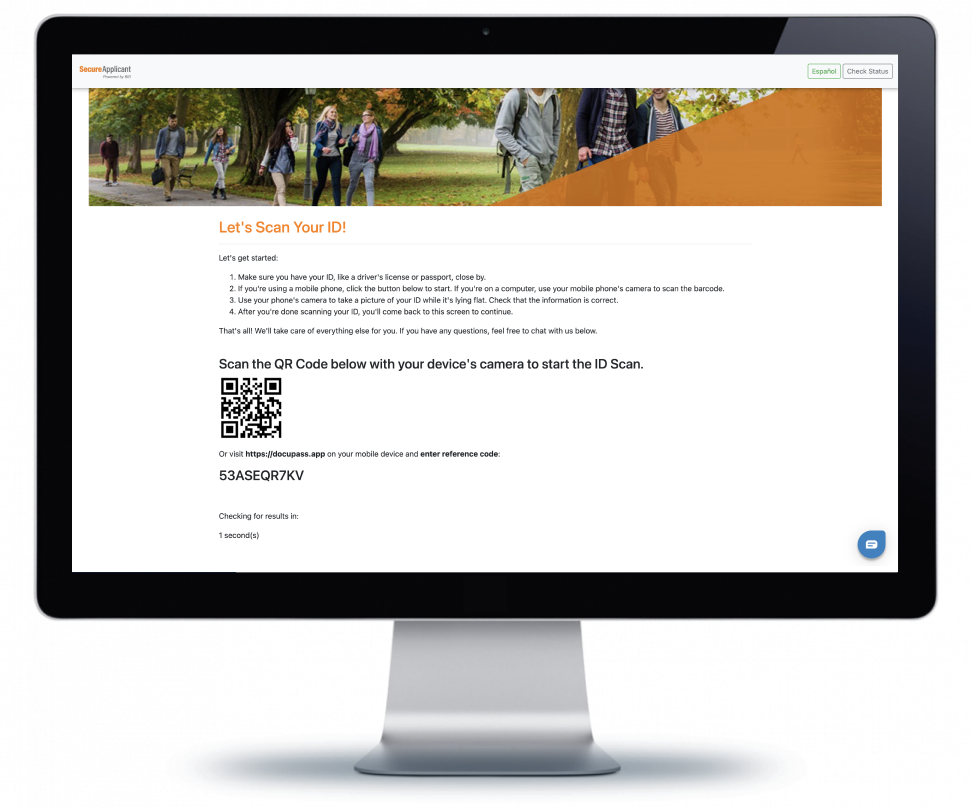 Paperless background screening: Operate the entire background check process using one online platform.
Branded applicant portal: Direct applicants to your applicant registration page customized with your name, logo, and colors.
Applicant ID validation: Applicants can use the platform to scan common identification documents, such as driver's licenses, passports, and other ID cards.
Worry-free compliance: Secure Applicant complies with state and federal background screening regulations.
Reporting features: Run reports on background checks by location, date, and other parameters.
No hidden costs: Pay for background checks, not additional software fees.
Automatic re-screen reminders: Applicants receive automatic notifications when they are due for another screening. anytime.
Applicant ID validation: Access applicant authorization forms and background check results.